Across the purportedly free world, the pandemic exposed certain institutions' and individuals' eagerness to coerce and dehumanize those with whom they may have peacefully interacted before the advent of COVID-19. Nowhere was that exposition more brazen than in Canada.
The Trudeau government considered deploying war machines against peaceful protesters. At least one province mulled the possibility of preventing the unvaccinated from shopping for groceries. Pastors were reportedly arrested for holding outdoor church services.
The brutal death of Danielle Stephanie Warriner at Toronto General Hospital in May 2020 stands out as an example of what heinous behavior some people apparently felt was excusable on account of the pandemic.
Not only was Warriner allegedly killed over not properly wearing her mask, but a judge recently decided that those initially charged with manslaughter over her killing won't be tried.
To add insult to injury, the individual who admitted to intentionally panning the security camera away as the incident unfolded is reportedly still employed as a security guard.
The victim's sister, Denise Warriner, spoke to TheBlaze about this tragedy, the court's decision, and the legal action that her family is now taking in hopes of holding those allegedly responsible to account and ensuring something similarly egregious won't happen to another family.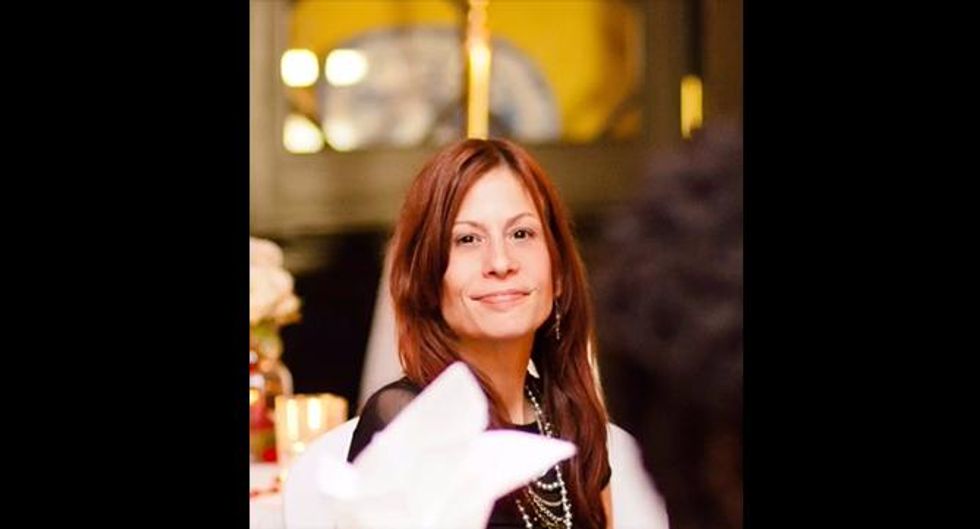 Danielle Stephanie WarrinerImage courtesy of the Warriner family
What's the background?
Warriner was a mother of five children who had been diagnosed with chronic obstructive pulmonary disease. Afflicted with shortness of breath, she also suffered from both bipolar disorder and PTSD.
On account of a recurring cough, she was admitted to Toronto General Hospital, part of the University Health Network. The 43-year-old reportedly left her hospital room via wheelchair sometime after her admission in hopes of getting a sandwich.
Although Warriner tested negative for COVID-19, hospital staff noticed that her mask had slipped down around her neck as she endeavored to find nourishment.
Court documents indicate that hospital staff (i.e., a COVID screener) radioed security, "advising them of this missing patient who was to be found and returned to the Covid floor."
A gang of Toronto General Hospital security guards mobbed Warriner, prompting her to put her mask on.
While the guards, including 42-year-old Amanda Rojas-Silva and 35-year-old Shane Hutley, dressed themselves in personal protective equipment in the company of guards Andrew Li and James Rouse, Warriner demanded to leave the hospital.
She had, after all, come to the hospital voluntarily.
The ensuing confrontation was captured on video; however, the security camera was conveniently and intentionally turned away as the hulking security guards approached Warriner.
The legal complaint recently filed by the victim's family alleges, "The security guards were aware that Stephanie was suffering from mental health issues. Instead of accommodating her illness, the security guards chose to yell at, demean, and berate Stephanie."
Denise Warriner, the victim's sister, told TheBlaze that it was abundantly clear from the video, when coupled with the additional understanding about the victim's medical history, that Stephanie wasn't able to breathe.
"Anyone who had any common sense and vision … would have been able to discern that she was physically unwell," said Denise. "You couple that with the context that she's in a hospital and she's in a hospital gown."
Court documents suggested that Rojas-Silva might have subsequently assaulted Warriner, coercively forcing the mask over the victim's face. In response, Stephanie, who repeatedly emphasized she had troubles breathing, allegedly swatted the guard's hand out of the way.
Denise suggested that her sister had behaved as anybody "overwhelmed with an inability to breathe" would have if confronted by "people angrily directing that [they] do something to make that even more challenging."
"What you see in the [security camera footage] is that Stephanie was attempting to flee," added Denise.
Despite the victim's visible respiratory distress and defensive posturing, Rojas-Silva reportedly pushed her into a nearby wall and was soon joined by at least one other guard.
"There is an available inference that Ms. Rojas-Silva had one hand on Ms. Warriner's upper back or shoulder area and her other hand on Ms. Warriner's right arm for some or all of this phase of the interaction," said the court documents.
The guards reportedly pinned the 125-pound mother of five against a wall and then tackled her to the ground, even though the hospital forbids the use of force except in "extreme emergencies," such as in self-defense.
Court documents made clear that "Ms. Warriner was considerably smaller and slighter than Mr. Hutley and, while of a roughly similar height as Ms. Rojas-Silva, she was visibly slighter."
Denise emphasized that her sister was small and frail.
Even Rojas-Silvas' supervisor acknowledged that the guard's actions were wrong, reported Canadian state media.
The guards' supervisor testified that they were trained with the understanding that, "There is a risk of positional restraint asphyxia due to the person's body weight pressing down on their chest and the fact that the patient cannot support herself when her hands are handcuffed behind her back."
Denise noted that two of the guards also benefitted from relevant enhanced training, having been auxiliary officers for York Regional and Durham Regional police.
Training apparently had to be discounted. After all, this woman with breathing issues hadn't been wearing her mask properly.
Witnesses claimed that Warriner flailed and cried out as Rojas-Silva and Hutley — both of whom court documents noted "had an overwhelming advantage in strength over Ms. Warriner" — held her against her will and ultimately handcuffed her.
While Ontario's so-called Superior Court of Justice would not acknowledge the possibility that the guards applied pressure to the victim's upper body, it conceded, "There is medical evidence from which it can be inferred that being in the prone position can interfere with the ability to breathe normally and that the added factor of having arms behind the back being handcuffed and/or being face down for a period of time could further interfere with the ability to breathe normally."
The family's lawsuit alleges the guards had in fact applied pressure to the victim's back after she had been thrown to the ground, and that, "As a result of this restraint of Stephanie by security guards at [Toronto General Hospital], Stephanie went into cardiac arrest, and ultimately died twelve days later, on May 27, 2020."
The family noted that the hospital failed to contact them until 11 days after Stephanie suffered her post-attack cardiac arrest.
Damning footage
Security footage appears to show the guards berate the victim and then bash her against a wall. The camera pans away, hiding what happened next.
Kyle Bryson, the guard who concealed his compatriots' actions, said in a preliminary court hearing that he had done so because he "panicked" and "got really anxious."
"I think that this security guard was complicit in tampering with evidence to cover for his colleagues," said Denise Warriner. "There's a strong inference that he moved it to protect his team."
Bryson was allegedly able to keep his job.
Warriner's lifeless body can later be seen being wheeled away, feet limp and dragging behind the wheelchair. It appears as though her aggressors had successfully ensured that her unconscious face was masked:


Video shows moment Toronto hospital guards attack maskless womanyoutu.be
After wheeling Warriner out of view of witnesses and the security camera, Rojas-Silva reportedly checked for a pulse. Failing to find one, she allegedly removed the victim's handcuffs, called "Code Blue," and resumed doing chest compressions.
Coroner Dr. Von Both found in his autopsy that the "immediate cause of death of Ms. Warriner was hypoxic ischemic encephalopathy or, in lay terms, a brain injury resulting from lack of oxygen."
Guards cut loose, case quashed
Rojas-Silva and Hutley were arrested in December 2020 and were each charged with two counts of criminal negligence causing death and one count of manslaughter.
Both guards reportedly lied that the victim had repeatedly assaulted them.
According to one court document, "Mr. Hutley went as far as to claim that Ms. Warriner delivered several overhand and underhand punches to Ms. Rojas-Silva's face and was kicking her feet," reported Canadian state media.
Hutley later admitted that he had lied, saying, "I would have never said the things I said in there if I knew there was a video."
Despite the seeming preponderance of evidence, on Nov. 22, 2022, Ontario judge Sean F. Dunphy, who previously specialized as a insolvency and restructuring lawyer, quashed the criminal case against the guards and struck the trial from the docket.
Dunphy claimed there wasn't enough evidence to take the case to trial after having thrown out the certified forensic pathologist's testimony, which implicated the guards in the killing.
The victim's sister suggested that extra to denying Stephanie possible justice, Dunphy has gifted every criminal defense lawyer who will henceforth attach themselves to this rendering to have future coroners' testimonies tossed out.
Seeking accountability on behalf of a fallen sister
"Regardless of where you stand on the political spectrum and regardless of where you stand concerning vaccinations or masks or hospitals, the response [to the video of the incident] has been consistent," said Denise. "This was a murder. This ought to have been presented to a jury."
"There's just been an incredible wave of support and equally of outrage and disgust. Globally, thousands of people cannot believe that this has gone unaccounted for," Denise said, noting that various social media postings of the video documenting the hospital attack have gone viral, netting millions of views.
The victim's family was sure that those allegedly responsible would at least go to trial. Dunphy's decision consequently proved as saddening as it was surprising.
Denise received a phone call the day of the decision from someone familiar with the matter while driving. The woman on the other end instructed Denise to pull over.
"I knew that something bad happened. When she explained everything to me, I remember distinctly feeling a significant wave of nausea. My ears were ringing. Everything was spinning. I honestly thought that I was extremely physically unwell," said Denise. "I couldn't believe what I was hearing."
While the Crown's decision was shocking, Stephanie Warriner's family had already been devastated by her death.
"Her one daughter succumbed to the trauma of this. Daisy Warner could not cope and I don't blame her," said Denise.
Daisy died on Nov. 28, 2021, having "turned to drugs to ease her pain" after her mother's death.
"There has been many, many days that have been really dark for me where, quite honestly, I've been hanging by a thread," said Denise. "The judge's decision just exacerbates preexisting emotional injury from what occurred at the hospital. It is layered trauma and injury. It really amounts to emotional abuse."
The judge's decision may not ultimately amount to absolution for the accused, however; for Warriner has a sister who "would never let up."
Prior to taking her sister off life support, Denise Warriner promised Stephanie that she would "get accountability and justice for her."
Denise underscored how the hospital security team was "absolutely responsible for instigating the cascade of events that occurred," resulting in the death of her sister, who deserves a hearing in a court of law; if not a criminal court, then at least a civil court.
Warriner's family has launched a $16 million (in Canadian dollars) lawsuit against the University Health Network and the five security guards reportedly involved in the victim's untimely demise, account for general damages, damages pursuant to the Ontario Human Rights Code, aggravated damages and punitive damages, plus interest.
"I'm seeking accountability," said Denise, noting that when systems and institutions fail to do right by the people, the people have to right these failed systems and institutions.
"That is my hope. It's my moral duty to ensure that no other family, no other person, is victimized in this manner."
Denise added, "I hope to send the message that you may have escaped a conviction, but the systems responsible are not going to escape liability."
The suit maintains that the guards are guilty of assault and battery, negligence, conspiracy, intentional infliction of emotional distress, and human rights abuses. Furthermore, it accuses the University Health Network of negligent supervision and holds it liable for the conduct of its security team.
Denise noted that Kevin Smith, president and CEO of the University Health Network, reportedly called her with a legalistic excuse disguised as an apology after Stephanie's death, saying, "Effectively, 'we're so sorry, but it was COVID. And we were understaffed. We were overwhelmed. We were, you know, we're really sorry, you know, but we hope that you can understand what was happening at the time.'"
When asked whether the mentality engendered in some people by the pandemic played a significant role in her sister's death, Denise suggested, "COVID hysteria definitely contributed."
"She wasn't hurting anybody. She wasn't destroying property. She wasn't stealing anything," said Denise. COVID paranoia "coupled with the use of force power" made for a "perfect storm."
Premier Doug Ford's office did not respond to media requests for comment.
The University Health Network did, however, respond to questions about whether the guards initially charged with manslaughter and the guard who adjusted the camera, saying, "UHN will not comment on a court's decision nor on matters of individual employment or discipline."
Like Blaze News? Bypass the censors, sign up for our newsletters, and get stories like this direct to your inbox. Sign up here!