Even after getting punched in the head and losing her right eye, Bianca Palomera told KTVU-TV she wouldn't undo standing up against a man she saw bullying a special-needs boy last weekend.
"Deep down, there will always be a little regret, but I wouldn't take it back," the 19 year old added to the station.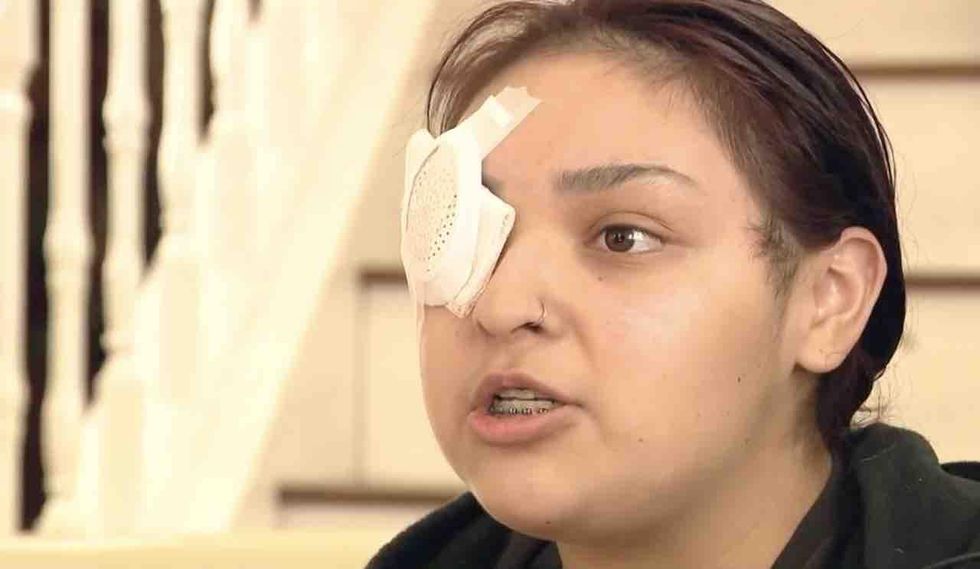 Image source: KTVU-TV video screenshot
What happened?
Palomera was working her job — assistant manager of a Habit Burger in Antioch, California — last Saturday afternoon when she noticed a man in the restaurant bullying a special-needs teen, KTVU said.
"I hear the threats going, him having a problem, saying 'who are you looking at, stop looking that way,'" Palomera recounted to the station.
So she stood up for the boy and confronted his tormenter.
"'Hey, you know, what you're doing is wrong. It's not right at all. He's special needs. He doesn't know what he's doing,'" Palomera recalled telling him, KTVU said.
Her confrontation didn't back the man down; instead he escalated things.
Surveillance video shows the much larger man getting right in Palomera's face. The station said he yelled slurs at her. She was seen jawing back at him.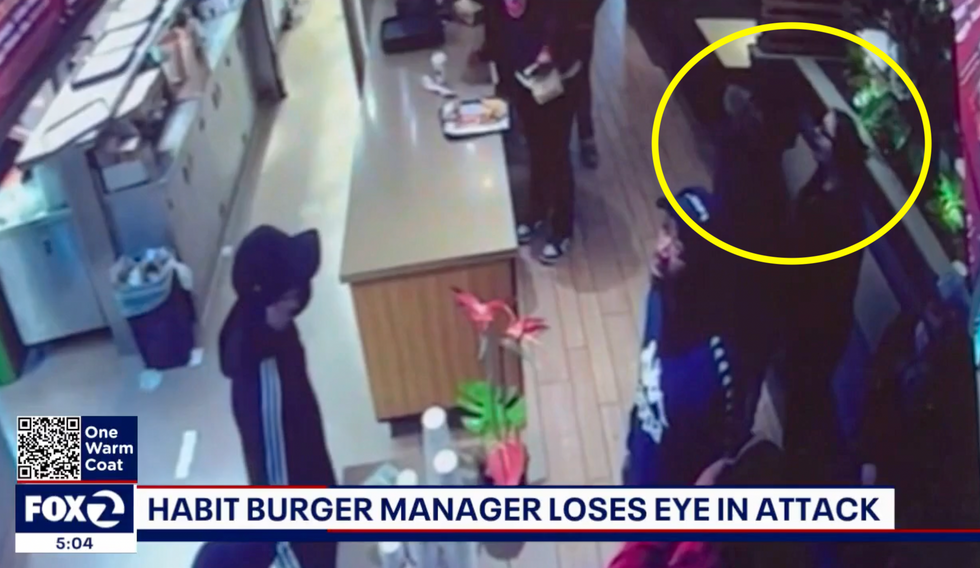 Image source: KTVU-TV video screenshot
Then he landed a brutal punch to her left cheek.
"I didn't expect him to punch me at all," Palomera recalled to station.
She briefly slumped on a chair then stood up and went after the attacker — but he swung harder and hit her apparently in the head.
Palomera told KTVU she believes that second punch is the one that destroyed her eye — but the station said she initially didn't know how badly she was hurt.
"I just remember grabbing my eye," Palomera told KTVU. "I thought I was crying at first, but then after I saw that I had blood dripping down my shirt, you know, down my cheek."
'Sometimes I think it's all like a nightmare'
Doctors performed emergency surgery on her eye but couldn't save it, the station said.
"Sometimes I think it's all like a nightmare and try to open my eye, but regardless, I can't see anything," Palomera told KTVU.
Antioch police are investigating and trying to identify her attacker, the station said, adding that he was seen leaving the restaurant others in a BMW X3.
"We're very proud of her," Palomera's sister Erika told KTVU. "She did the right thing. Her heart was there when she did it. Just that we feel like she's getting the short end of the stick."
Palomera noted to the station, "At the end of the day, if you won't do it, nobody else will. I felt like I had to step in."